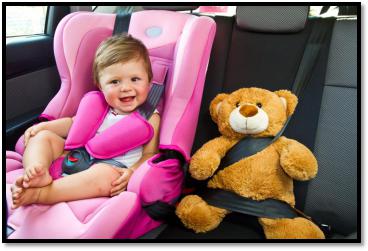 You're not a terrible parent if you're dreading the upcoming road trip with your little one. While you love them with all your heart, it cannot be denied that babies can be a handful during a trip, especially since they're strapped in their seat for a long period of time.
Exercising a few tips can save your time and your energy!
Pack Beforehand
Babies need a lot of things for their care. Rather than leaving their packing for the night before, start making a list at least a week in advance to reduce your leave-time, and buy whatever you need online. Stay organized and tick off everything you use so there's nothing left, and put the bags in your car the night before you leave. This way, you won't forget anything.
Keep Important Stuff near You
Baby bibs, fleece blankets, a travel tray for your toddler – keep it all within reach in their travel bag and put the bag within reach. You can't have the car stop each time you need to take out a baby bib to wipe off that spit-up milk.
Stockpile their Toys for Distraction
Babies get distracted pretty easily, so you might want to have some back-up toys on hand. Instead of just using one toy, add a small basket of toys beside their seat or on the floor so they can have a selection of stuff to keep them diverted.
Bring Someone Along
Bringing a buddy along can be a life-saver. Road trips can be exhausting, not to mention dangerous especially if you have a baby that needs your attention. Having someone with you will ensure that your little one gets the care they need, while you drive on. Also, with a friend or a partner, you won't have to spend your time baby-talking with your disinterested toddler.
Breathe… and Remember WHY you're taking the Trip
While this may seem cliché, the truth is that most of us opt out of taking the road trip only because we think it won't be worth it in the end. Truth is; taking a vacation with a toddler is only stressful if you let the negative tenor of the experience overwhelm you. Remember why you're taking the trip in the first place, and don't let the negative vibes sway you away.
If you feel stressed, get off the next exit and take a breather. Be patient and see what's causing any disturbance (whether your little one needs a diaper change, a feed, or sleep) then carry on.
Road trips are a wonderful, joyful experience if you plan ahead. So get out there and show your little one how great these mini-vacations can be!