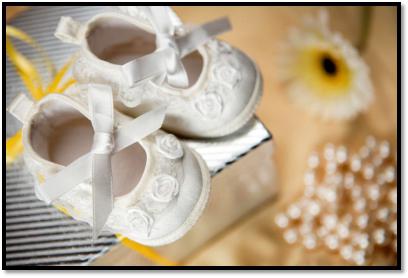 Unless you have enough money to spare and more, we'd say no.
Although we'd all like to shower our little bundles of joy with everything that money can buy, it might be better if we'd start their lives a bit more practically. It's understandable that you want to be the best aunt/uncle ever.
But again, it would be better for the baby if you'd skip the following expensive gifts.
Changing Table
Big, clunky and pricey, these tables take up valuable space and aren't really that useful. Since the parents aren't likely to take their little one to the nursery every time they need to change the baby's diaper, this changing table will just end up sitting in a corner, collecting dust.
Diaper Disposal System
Diaper disposal systems became very popular until parents realized the flaw in the system; once the diaper was out of sight, they forgot about it and that lead to a very stinky situation. Instead of buying a diaper pail, buy packs of cloth diapers. Easy to use and wash; cloth diapers are less expensive, reusable and especially good for babies who have sensitive skin.
Crib Bedding
They might look stylish and cute, but there's really no need for crib bedding like bumpers. In fact, doctors warn about using such bedding since it contributes to SIDS. Since babies don't have the motor development to free themselves in case they get wedged, this can lead to suffocation. Buy a beautiful Sherpa fleece blanket instead so the baby has something soft and breathable to comfort them.
Baby Food Processor
Why buy a separate food processor when the parents can easily use a mini food processor at home?
The function is the same and they'll get what you need without you splurging. Small appliances only clutter the kitchen counter. Though if you're adamant on a kitchen appliance, buy a Magic Bullet or a regular blender, but ask first if they already have those.
Toys, Toys, Toys
Think about it, does a 1-month old really need a gorgeous $100 rattle? Babies start developing basic motor skills in the first 4-6 months and go on from there. However, it takes them at least 12 months to hold things firmly. And no amount of expensive toys is going to hurry their progress.
Hold off with the toys and trinkets and buy colorful, simple toys once the baby is old enough. The little one will be just as happy with a $10 teddy bear.
Buying Affordable Baby Products Online
The list can go on and on, but for now it would be better if you just stayed away from products like the list above.
Think practically and buy children's products that offer something more than just the luxury factor. If you need any ideas (and products), visit the Genio Baby shop and make your choice. You'll thank us later!