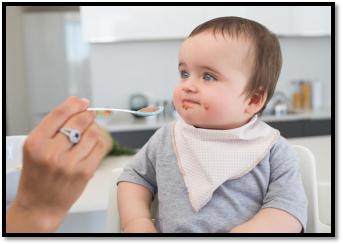 Saying meal time with babies is messy is an understatement.
Though you may find those pictures of your little one with spaghetti splattered down their front cute right now, it doesn't seem as cute afterwards when you have to wash stubborn stains of red sauce off their onesie.
And this is why we use baby bibs.
Benefits of Using Baby Bibs
Cost Effective Way of Keeping Your Baby's Skin Rash-Free
Burped up milk, or certain types of baby food, can cause rashes to develop, if they come into contact with your baby's skin. So rather than using expensive medicine to treat those rashes, many parents instead opt for baby bibs during meal time as cost-effective solutions of keeping that delicate skin clean and protected.
Keeping Heavy Stains off
There are stains and then there are heavy stains that even two cycles in the wash aren't able to clean. Baby's clothes are washed frequently so your little one always has something clean to wear. Having your baby wear a bib keeps those clothes clean enough, so washing them becomes easier.
Variety of Available Baby Bibs
Baby bibs are available in different styles, so you can find exactly what you need according to the task you need them for. For example, bandana bibs work best or meal times. Thanks to their design, these bibs absorb more dribble than normal bibs, and since they're securely tied behind the baby's neck, your baby is able to wear them without pulling them off.
Aside from these, there are many other bibs available such as the scoop bib, coverall and sleeved bibs.
Tips on Buying Bibs for Your Baby
Now that we've established why bibs are necessary for meal time, here are some tips that will help you buy the right size.
Buy age-specific bibs – Newborns have their own size bibs, so you might want to rethink that toddler size. Depending on their age, getting the right size bib will ensure that it's a comfortable fit.

Make sure it's easy to take off and put on – You need something that's easy to whip off if your baby's being a bit fussy. Make sure that the latch or button is easy to open and use when you buy it so there's no worry about taking it off later on.
Make sure it's comfortable and absorbent –When buying a bib, make sure it's comfortable and safe. The bib should also absorbent and should not fit too tightly around your baby's neck; this may cause difficulty in breathing.
Buying Baby Products Online
Baby bibs are the best way to ensure that there's no spillage emergency during an otherwise fun meal. Buy them from Genio Baby and get your little one the best kids products items to keep them safe and happy!