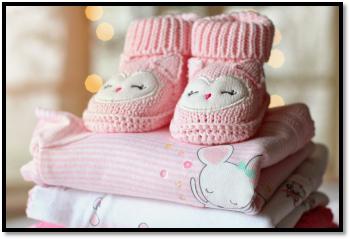 As an adult, you might consider your fashion needs to be a bit extensive. But that's nothing compared to the substantial (read: LARGE) collection of clothes your baby needs to stay comfortable.
From rompers and bibs to the adorable onesies, baby clothes require a big chunk of your closet, and a bigger chunk of your money.
But before you start fretting about the expenses and lack of storage space, think about it. Would your little one really need that dungaree or those 8-10 extra bibs for their care?
Shop smart, and start by eliminating what you don't need, and what you do need for your baby's wardrobe.
Which Clothes Will a Newborn Baby Really Need?
Usually, babies need only the following clothing:
Onesies (5-7 outfits)
Shirts (3-4. 2 long sleeves to keep them warm or protect them from the sun)
Pajamas (4-7 pairs)
Socks (a dozen pairs. Buy booties if you live in a colder climate)
Hats (2-3)
Consider the weather as well. If it's cold, add jackets, snowsuits, and thick sweaters to the list.
How Should I Dress My Baby?
Think simple, practical, comfortable and safe.
Baby clothes should be easy to take off and put on, and should not have any added frills and decorations. Buy the colors you like, but leave the fancy outfits for when they're a little older. Always keep their comfort a priority.
When Should I Start Shopping?
Preferably, after you enter your second trimester. Most moms wait until they know the sex of the baby, but you can start shopping before that if you want.
Isn't Buying Brand Better?
In truth, brand names aren't worth the price. Companies like Genio Baby offer the same quality baby products but for an affordable price. Buying clothes just for the sake of expensive brand name would only be wasteful spending.
Is there anything I Should Know After Buying the Clothes?
Yes, wash them.
Whether it's a romper or a baby bib, always wash your new clothes to get rid of any germs that might be embedded in the fabric. Many clothes contain allergens that end up irritating your baby's skin. Wash those clothes using a fragrance-free detergent. Or better yet, buy clothes from a source that manufactures their products from sustainable material.
Buy From Genio Baby!
Now that we've answered some of the more common shopping questions, go ahead and start shopping!
As one of the leading kids online shopping sites, Genio Baby offers premium quality products such as baby fleece blankets, bandana drool bibs and more at affordable rates.
Go through our virtual aisles and buy the best products for your little one's care!